I have type 2 diabetes and my regimen for managing it includes regular injections of two types of insulin. One, administered at bedtime, is "slow release"; the other, a regular "quick-acting" form, is used before each meal.
I administer these with a convenient instrument called an
insulin pen
. It is a disposable prefilled multiple-dose hypodermic syringe coupled to an easy to operate dose control mechanism.
Each of the two medications I use is provided in a different type of pen (those sold by the respective pharmaceutical manufacturer), which here I will call "type F" and "type K". The overall appearance of the two types and their operation by the user are almost identical, but their mechanisms are strikingly different.
Last week, as I put into service a new pen of "type K". I was surprised to hear an unfamiliar "ratcheting" sound as the dose was delivered. (That type is ordinarily silent during the delivery phase.) I was concerned that this might have been some slipping of a clutch or such in the mechanism due to a defect, and that the proper dose might not have been delivered. (It turns out that it was.)
When I first used an insulin pen (the other kind, "type F"), I was fascinated by it, and shortly autopsied a spent one. But, owing to pressure of other business, I never completed my analysis of the mechanism, and what I did learn was not documented and got away from me.
I felt that I needed to reverse-engineer a "type K" pen so see what the peculiar sound I heard might have been, and actually decided to thoroughly analyze both types.
I was able to retrieve two recently-decommissioned units from the bathroom trash can, and after some careful surgery I was able to begin my "reverse engineering". It was quite a task. I took almost an hour to fully understand what was going on in each of the units.
The mechanisms are extremely complicated and involve very clever mechanical design. As I mentioned before, although the overall method of operation of the two is essentially identical, the mechanism approach is entirely different (perhaps resulting from patent conflict avoidance matters).
In, any case, the result of this is a 21-page article with multiple drawings, along with a few photos (showing the overall appearance of the pens as well as what a few of the key parts actually look like - not how they are shown "for clarity" on the drawings). The article is available here:
http://dougkerr.net/Pumpkin/articles/Insulin_Pens.pdf
The pix were shot in a small "table-top stage" we made from a cardboard carton and a piece of matte white poster board. We see it here: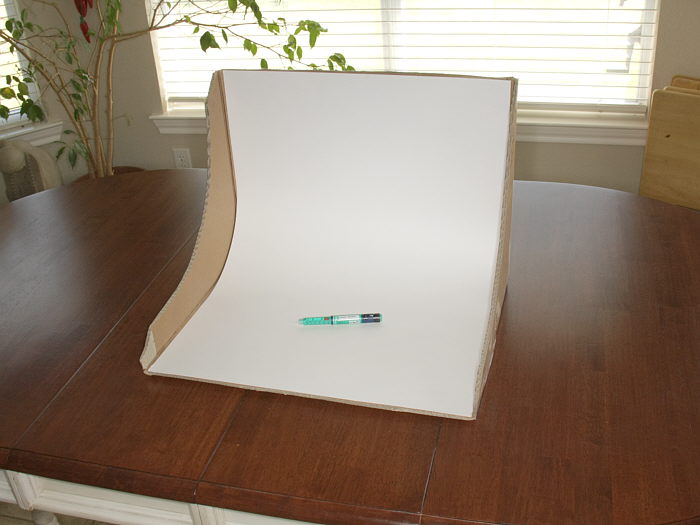 Douglas A. Kerr:
Table-top stage
For expediency, the shots were lit with a single source, a Ray-Flash ring flash adapter on a Canon Speedlite 580 EX II flash unit.
Here is a typical shot:

Douglas A. Kerr:
Nova Nordisk FlexPen insulin pen
The outside diameter of the ring flash lens (about 7") is such that, at the fairly short distance to the subject in this case, it leads to a very subtle shadow at the ends of the subject.
The funny "ratcheting" sound in my "type K" pen? I was able to determine its likely cause, a phenomenon that could occur when the friction in a certain part of the mechanism was for some reason less than was relied on by the design. It would not have affected the amount of insulin solution delivered. (This interpretation is described in detail in the article.) In any case, after a second occurrence shortly after the first, the phenomenon has not recurred in my current type K pen.
Best regards,
Doug