Earlier this week, my only "blood" grandchild, my granddaughter Julia Grace, graduated from high school. She graduated almost a year early - "almost" in that to complete her special program, she had to take two summer term courses after the end of her junior year. (Her program is one that yields not only a high school diploma but as well 12 credit hours of college credit.)
Her school district thoughtfully conducts a second graduation ceremony in August for those who needed summer courses to finish. The ceremony is joint for the six high schools in the district (which serves a community of about 350,000). Still, the number of graduates was modest, so the event played out quickly and smoothly. It was held in an auditorium of the University of Texas at Arlington (located between Dallas and Fort Worth).
Here we see Julia Grace receiving her diploma from her principal (a nice touch).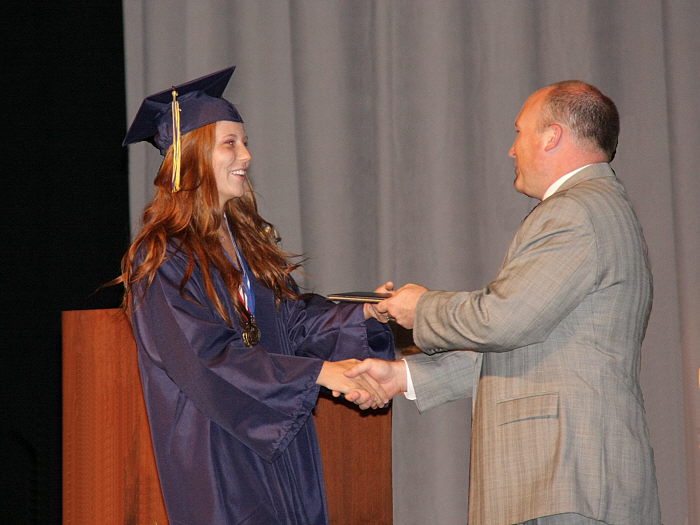 Douglas A. Kerr:
Julia Grace receives her diploma
70% x 79% crop, presented at 26% of original camera resolution
This was the first use I have made of a new gadget, a "Better Beamer" flash extender. This is a Fresnel lens that attaches with a very nice open plastic frame to our Speedlite 580EX II flash unit in order to optimize its beamwidth to match the field of view of lenses with an ff35mm EFL of 300 mm. (This shot was done with a focal length of 190 mm, an ff35mm EFL of 304 mm.)
I haven't yet done the testing to determine how much greater the luminous intensity-time product is than with the 580EX II alone at its narrowest beam setting (105 mm ff35mm EFL), but there is clearly a substantial improvement.
Best regards,
Doug