OPF Owner/Editor-in-Chief
Judy Glickman Lauder, innovative, awesome and solemn record of her documentation of European Concentration Camps, "Beyond the Shadows" opened last night to public view.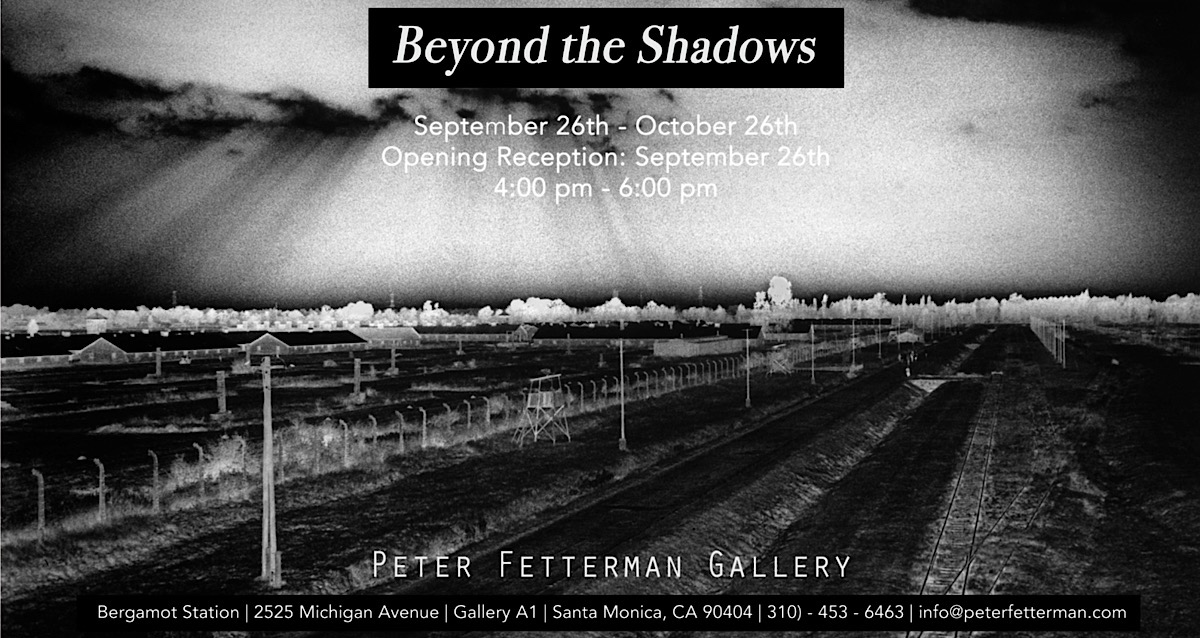 It's at the most admired and respected Peter Fetterman Gallery in Santa Monica, curated by Peter Fetterman himself.
It will be ongoing until the 26th October 2019, Wed to Sat 11:00 am to 6:00 pm, located at Bergamot Station, 2525 Michigan Avenue, Gallery A1, Santa Monica, California, 90404.
From Birkenau, Majdanek, Auchwitz and Treblinka in Poland, Theresienstadt in Czechoslovakia and Dacheau Germany we are taken to just a scant seven of the thousands of industrially organized work and death extermination camps of Adolf Hitler's Third Reich.
In merely 11 years, the Nazis, (the happenstance fruit of the core church doctrine of permanent antisemitism), the fellow-citizen supported slaughter, in Europe, overtook all the previous killings of Jews since Emperor Constantine first established this unremitting policy and practice.
The Nazis were the most efficient servants of this normalized core value of Europe's exclusion, marginalization and hatred of Jews. Austria and Germany were merely the highly efficient modern actors in this universally repeated traveling tragedy.
In each of these seven camp locations, Glickman Lauder's reversed infrared and regular film documentation highlights, without comment, the drab ordinariness about this entire horror story.
That is why it's so gripping and important.
Her work, remarkably is silent. It merely bears witness in mundane detail of death trains, the somber humorous sign, "Arbeit Macht Frei!", bed bunks and the dissection table, sinks and empty paths between buildings.
There is not a word of reprimand, record of a single wound, fallen child or smoke stacks of the burnt millions! Absent is hatred or comment.
Just the ignorable shadows of the greatest willful crime against humanity can be experienced.
The photographer has no malice. She holds no desire for revenge.
But there's a wish, a hope and a heartfelt prayer that is evoked in all the visitors to the exhibition. It's as follows:
Our diverse cultures will work to achieve a universal understanding of the innate worth in all of us. Further, hatred of any minority is always disgusting and can no longer be tolerated. As a consequence we must block and frustrate all who promote such evil.
I commend this exhibition to everyone. If you can't make it, you can visit the website,
here
and in addition purchase the book of the entire set the artist's formidable work.
Asher Kelman
Last edited: