OPF Owner/Editor-in-Chief
We have a dilemma of conscience.
We don't want to kill pollinators but are being attacked 24/7 by biting mosquitoes!
Mosquitoes spread diseases such as Western Equine Encephalitis, West Nile Fever, Dengue and more.
one whacked Mosquito on my bed!
​
Southern California we have a wave of mosquitoes
We are being bitten every day and night. So for indoors I have3 electric zappers in my bedroom!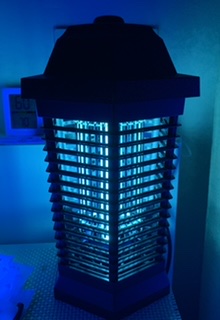 ​
But what about for outside and the risk to precious pollinators?