For a number of years Carla was quite active in quiltmaking. She designed and completely executed a large number of quilts, in sizes up to "king", many of them given to our children and grandchildren, even one for a friend in the Peace Corps.
But after she had about satiated that constituency, her interest swung to her writing.
However, recently, inspired by a work with a similar motif done by a friend here in Alamogordo, Carla decided to do a quilt with a unique design - actually, a quiltlet, intended as a wall hanging.
The plan was that each square would have appliquéd (that's a double past participle, once in French and once in English) a number of garment labels. She collected the label(s) from almost every garment we had in the house (and that turns out to be quite a few). There ended up being 246 altogether.
She "pieced" the front and back herself, but the actual
quilting
(the decorative pattern of sewing that holds the front and back together over a a layer of cotton batting) was done by a very capable woman here in town. (Doing this in the modern way requires a large and costly machine, and we no longer have ours, there being no space for it in our little desert home.)
Here we see the finished project.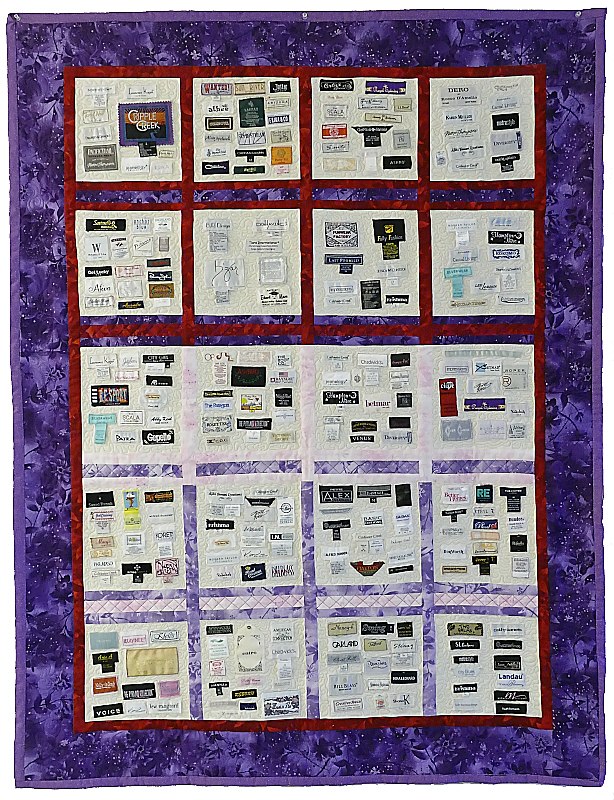 Douglas A. Kerr:
Carla C. Kerr: "Look for the Union Label"
​
The title, of course, was inspired by the iconic advertising jingle, from the late 1970s, of what was then known as the International Ladies' Garment Workers' Union (ILGWU; sometimes called just the "ILG"), with these lyrics:
Look for the union label
When you are buying a coat, dress, or blouse,
Remember somewhere our union's sewing,
Our wages going to feed the kids and run the house,
We work hard, but who's complaining?
Thanks to the ILG[,] we're paying our way,
So always look for the union label,
It says we're able to make it in the USA!
And in fact there are two ILGWU labels among those on the quilt, along with two from the The United Hatters, Cap and Millinery Workers International Union.
In 1982, that union merged into the Amalgamated Clothing and Textile Workers Union. In 1995 the ILGWU merged with that union to form the Union of Needletrades, Industrial and Textile Employees.
So now its all just one big hatty - uh, happy - family.
Best regards,
Doug