I am liking this photo enough I am sharing it here as well.
The shoot was mostly for me to play with my relatively new camera (Canon R5c) outdoors, I am still trying to get used to the different way it focuses than my 1DsM3. It is hugely different (as in 45 focus points versus 1024 focus points and really good eye detection system.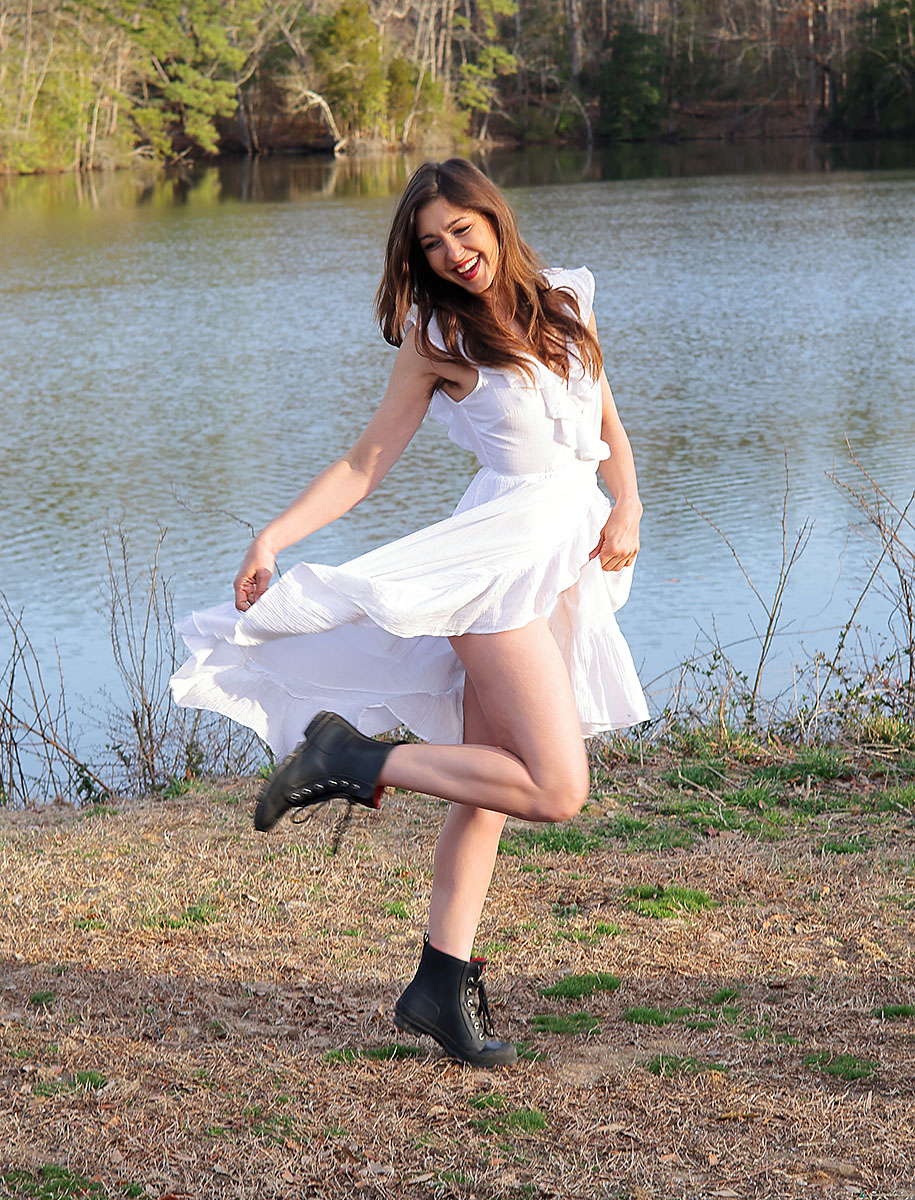 I was concerned because it also tends to aim for the closest thing in the scene, even if that is NOT what I want it to focus on. However with this shoot, it appears the eye detect has priority over the rest of the scene. I probably need to do some with multiple people to see what happens.
I am still loving that I basically don't need a flash, unless I want to fill in the light. Personally an assistant with a reflector would work better.
Also still learning to watch the camera being a touch light on the trigger finger so to speak, but some extra pictures with digital don't hurt and it came in handy at one point.
And of course, still annoting that I have to use Canon Photo Professional first, instead of straight to Photoshop. It is getting somewhat easier though, except on my data storage needs.
Other trivia, I also got the opportunity to play with my VR lens all proper like at one point and then processed one of the stills I took with 3D stereo Photo Maker software. Very cool, must get closer to subject next time I try that.
Title of shot is: "Melissa Dancing at the Park"
The Model is "Melissa Trout"
Shot at a park in Newport News, VA, USA.
Technical: Canon R5c, with RF 50mm/f1.8. minimal editing (adjusted exposure -.25, got rid of some trash and maybe some leaves I thought were also trash, and some peaking through naughty bits, so this image would be Facebook safe.
Not naming the park only because we did some guerilla nudes later in the session, so am avoiding getting the model in potential trouble. Just in case.
Although with modern recognition, it is probably easy to figure out which park. But if they can't confirm it, they can't use it.
(if you don't know what guerilla nudes are, they are nude shots in a location you MIGHT need a permit for normally, without getting the permit (or permission) Riskier for model).
I still remember one a few years back where I had permission to shoot and fairly confident the Park Ranger was aware of the nature, but neither of us confirmed it. As long as no one complained.
And I have done a few with permits and permission, those can be fun, but a lot of work ahead of time for the person getting the permission and permits.