Some photographs think that a good image needs no verbal accompaniment. Not me! My experience is of greater cognitive and/or emotive impact when accompanied by relevant captions or stories. So here's some images taken on an afternoon road trip using a photographic technique unfamiliar to me. I'll provide brief captions but postpone the contextual story until you've viewed the photos. Then you can tell me whether the verbal accompaniment was useful, added interest, or neither.
Is this Fox like a Walmart Greeter?
No, the Store isn't Walmart: It was Built around 1870
View from the Right Side of the Store
View from the Left Side of the Store
The Avenue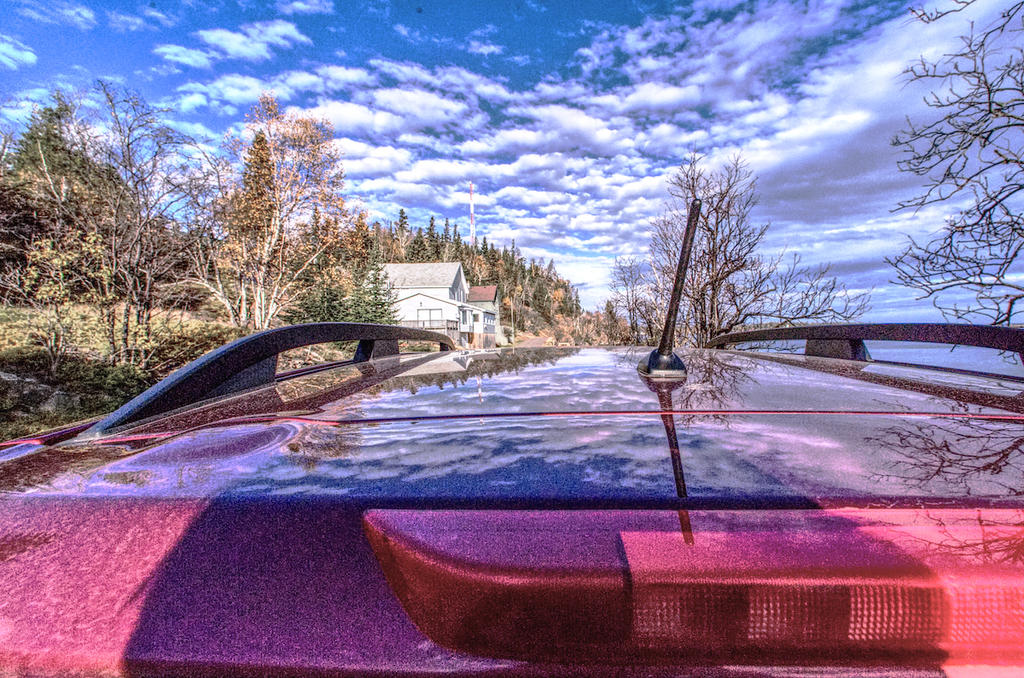 ​
The photos were taken on the Sibley peninsular, named after an 18th century miner. At the end of the peninsular is Silver Islet, which is both a small community and the site of the world's richest silver mine in the 1870s. The story of the mine provides the context for the photos.
The silver was discovered on a small, rocky island just off the Lake Superior shoreline. To my knowledge, it was well offshore and to the middle of the photo giving a leftside view. At that time, the island was approximately [50 m²] in size and only 2.5 metres above the waters of the lake. In 1870, the site was developed with wooden breakwaters built around the island to hold back the lake's waves, with the island's size increased tenfold by the addition of crushed rock. The mining community was developed along the shoreline, with the miners brought over from Cornwall. The final picture of 'The Avenue' shows miners houses. The mine was operational until 1883, by which time most of the silver was extracted and the price of silver had declined. The end came when a shipment of coal did not arrive before the end of the shipping season. The coal fired pumps holding back the water of the lake stopped working and in early 1884 the islet's mine shafts, which had reached a depth of 384 metres, were flooded. They shafts were never de-watered, and the underground operations never reopened. Over the 16 years that the mine was in operation, $3.25 million worth of silver was extracted, which was a helluva lot of money at the time. Here's a photo of the mine in 1911.
The original miners homes are all now occupied for recreational purposes. They are without electricity but with heating and power supplied by generators, propane and wood stoves. The renovated 12-bedroom General Store is now for sale at about $350,000. We've seen foxes, bears, wolves and lots of other wildlife on the Sibey peninsula. The fox in the photo was nibbling on roadside food wastle left by visitors.
I hope the captions and story added to the viewing experience. Cheers, Mike
Last edited: