OPF Owner/Editor-in-Chief
There are over 2,000 State of California recycling centers for aluminum soda cans and plastic bottles.
"The California Refund Value (CRV) is the amount paid to consumers when they recycle beverage containers at certified recycling centers. The minimum refund value established for each type of eligible beverage container is 5 cents for each container under 24 ounces and 10 cents for each container 24 ounces or greater."
So for the poor and homeless, the unlocked trash bins of Beverly Hills upscale streets are a safe hunting ground for extra money without begging!
It's a simple process for the organized. From my observation, one can recover 2-20 pieces from each unlocked bin. In Cities like Los Angeles and Long Beach, trash bins that are collected by City trucks have gravity lock!
Here in Beverly Hills they are open for the getting, ??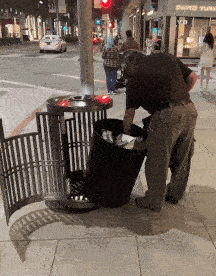 ​
A cache of 50 collected in an hour only brings in $5:00, but for the homeless that is substantial! It's a hard economy, but it's part of the recycling effort. In fact, I am suspicious that the non-pilfered garbage might not be sorted and simply go to the landfill. I will ask!
Asher