Back in the 1980s I competed in track and field and tried to interest my kids in the same. Guess I tried too hard because none of them got involved then. All was not in vain, though, because two became marathon runners in adulthood and our eldest daughter outdid us all to become a world-class triathlete. What this has to do with music is that the disc jockey who controlled the Tannoy system at our local track invariably blasted out Montreal singer Gino Vannelli's songs during longer races. This music accompanied our kids and their Mum screaming at their Dad to speed up to meet some or other qualifying time for the Canadian race walking team.
The other night, while walking the dog for her late night pee, the full moon over the tree tops was impressive enough that I took a quick photo. Inspecting it the morning after, the moon was indistinct and the picture evoked no less hazy thoughts and memories that didn't coalesce until a couple of days later. It was the car that was the trigger.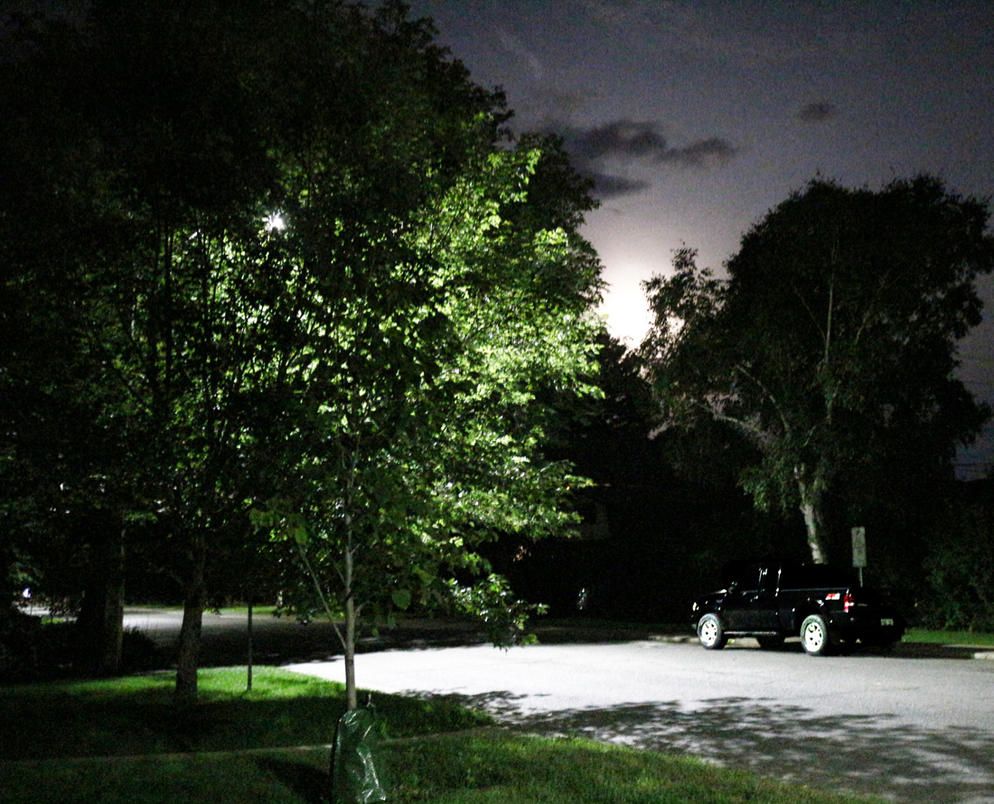 ​
Gino Vannilli's best song included the great line "Black Cars Look Better in the Shade." It's about an older woman with lyrics as follows:
Under the cover of night
She crawls into sight
Her skin is cold china white
She's a dark angel wearing dark glasses
Dark shadows under long false lashes
The night exposes the cracks
She wears her makeup like wax
To hide every scratch
'Cause she a dark angel riding dark horses
Sitting pretty in her dim lit covers... I say
Black cars look better in the shade
She smears her lipstick on right before she sleeps
For all those phantom lovers in her dreams
She smokes them french cigarettes
In cocktail gloves and a strapless dress
She cuts a perfect silhouette
But she's a dark angel wearing dark glasses
A fading beauty as the night time passes... I say
Black cars look better in the shade
Black cars look better in the shade.
You can see Gino sing it
HERE
In 1984, when Gino recorded the song, it broke new ground. Sexuality particularly in older women was a taboo topic indeed - sexually involved older men were thought fools but comparable women pure evil. My wife Lee and I published a book on the topic a decade later (
Sex May Be Wasted on the Young
) but it wasn't until
Viagra
came on the market that later life sexuality came fully out of the closet. So good for Gino: he was bravely ahead of his time but made a young man's error of equating beauty with few age lines rather than a wealth of sensual experience. The actress Charlotte Rampling have could put him right about that (
READ HERE
).
So Gino's song inspired a couple of photos of my own dark angel.
Thanks Gino. Without your music, these images would never have got together.
Mike