OPF Owner/Editor-in-Chief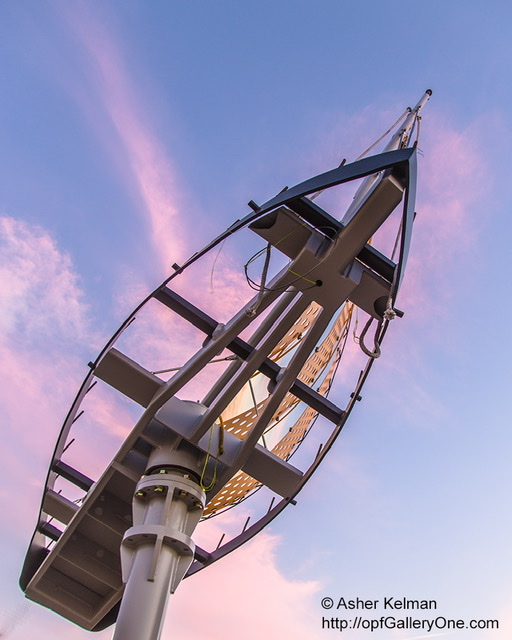 When the sculpture was installed originally we had to modify the column and have it self supporting with zero bolts in the ground.
Since the ground was the (supposedly fragile) roof of a concrete public parking lot, no anchors into the concrete were allowed.
Also the weight had to be distributed evenly over a large area so the load didn't exceed the City's strict limited "claimed" strength of the concrete.
So the solution was to use a shorter column mounted to plates of steel, stacked in a concrete container restrained by a steel rim on a 9 ft x 9 ft3/4" steel plate merely resting on the ground.
Worse, the ground had a slope in two directions. So I devised adjustable leveling bolts and use double what my engineer approved and that way made the main column absolutely vertical.
Then because we can have hurricanes of 80 mph and massive torsion and tipping moments, I added numerous 1/2"stainless steel cables to counteract tipping.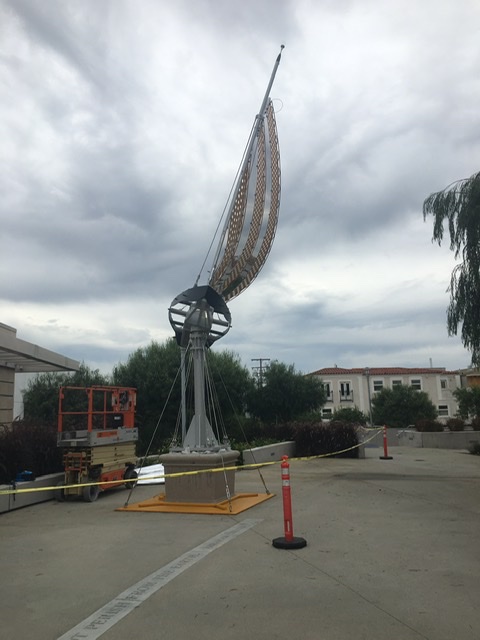 That existing column at the original site was made of carbon steel. We have move to a much stronger and corrosion resistant steel.
Now, its its new location, at last, we can directly bolt to a custom engineered concrete base with 12 ft footings at The City of Long Beach.
I decided to use a more elite steel, 17-4 PH with much greater yield and tensile strength and hardness. So cables are not needed nor any giant counterweight. But the new column has to be 3ft taller to account for the missing height of the counterweights and the giant concrete pot.
Computer Graphic of The Puff Of Wind
Set in a Panorama of the New Location
Below The Long Beach Museum of Art
And At the end of Junipero Road
​
As the new concrete foundation in Long Beach is now perfectly flat, no leveling setup is required. We have a much more refined and far strongly engineered support column of 17-4 Stainless Steel. Also we have double checked that by Finite Element Analysis and the City's consult engineering firm concurred with the calculations.
A lot of thought, but the sculpture is actually designed to handle harsh winds up to 112 MPH, by turning into the wind. The massive SKF bearings are in two duplicated, sets, so even if one set was jammed, the other would work. But even if both were stuck and the sail is locked perpendicular to the wind, the sculpture will not fail or tip. It's designed for that load! Meanwhile there would be no roofs anywhere in the City!
Asher