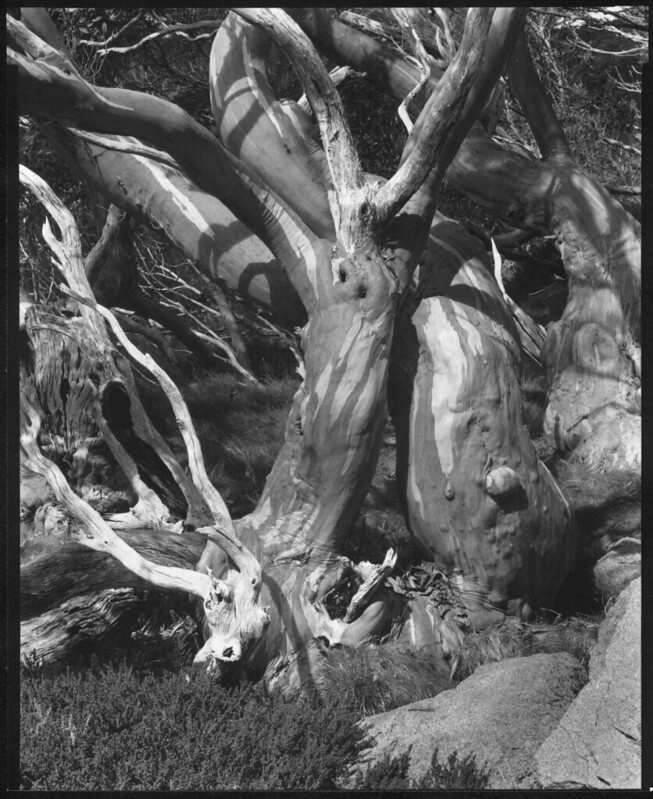 Snow Gum Dance, Charlotte Pass
​
Gelatin -silver photograph on Ultrafine Silver Eagle VC FB photographic paper, image size 24.6cm X 19.5cm, from a 8x10 Fomapan 100 negative exposed in a Tachihara 810HD triple extension field view camera fitted with an Apo-Nikkor 610mm f9 lens working at f128. Titled, signed, and stamped verso.
90% of this picture is down to the subject and lighting; hard sunlight, deep shadows, and strong bark patterns with cadenced forms make for a striking photograph. The subject is also striking enough to capture the photographer and hold him hostage until he has set up the camera and made the exposure.
My prosaic making notes indicate Fomapan 100 rated at EI = 50 exposed for 2 seconds at f128. Development was in replenished Xtol for 3 minutes at 30 Celcius in a tray with constant agitation. This is very hot and short but with practice it is possible to get even development. And it saves time. At 20 Celcius my dev time would have been 11 minutes and I'd be turning out 3 negatives an hour. With 60 negatives from my last expedition to do that's a lot of dark time and I might forget what daylight looks like.
Time in the contact frame was 7 seconds with the illumination supplied by a 4x5 enlarger with its lens set at f11. Paper contrast was filtered to grade #1. There's a minor burn in the lower right hand corner and in the upper left. All else is the familiar archival routine.
One hears a lot of dismay about the sharpness killing effects of image diffraction. Almost all of it emanates from digital shooters using miniature cameras trying to make big pictures. A big camera making a photograph that won't be enlarged is not so embarrassed. Even though Snow Gum Dance, Charlotte Pass was exposed at f128 it still contains detail finer than the eye can see!