So in my previous posts, I mentioned that I am working on a series of LF Paper-negative photographs, for a series of 12 photographs. I am going to start posting them on here as soon as I get them done, which will most probably be weekly now, for your consideration/ questions/ comments/ critiques et cetera.
As this is a somewhat convoluted project, I feel it necessary to give proper perspective.
I am from Jammu and Kashmir, which is a disputed territory between India and Pakistan. I have been in the states for almost 3 years now, working towards my BA in the College of Idaho, with a Major in Art. Now the college here is almost a 130 year old institution. As such, we have a bunch of strange stuff in the archives, where I hang out most of the times. One such collection of things is a collection of dolls made in India.
Now this woman from Idaho did some USAID stuff in india in the early 60's and brought them back to Idaho with her. Well, she dies, and her daughter just drops off this 33 doll set to the college. It has been there ever since.
Now these dolls were made by a doll factory in New Delhi, the capital. They supposedly depict the various people of the country through dolls.
I found two dolls, one of a "Kashmiri Woman", and the other of "Kashmiri Muslim Woman" in that set. Since I had a 8x10 at my disposal, and because I saw that there was some really funky stuff going on in the dolls, I decided to document them. It changed, somewhere into a series of Diptychs, the first of which you will see here.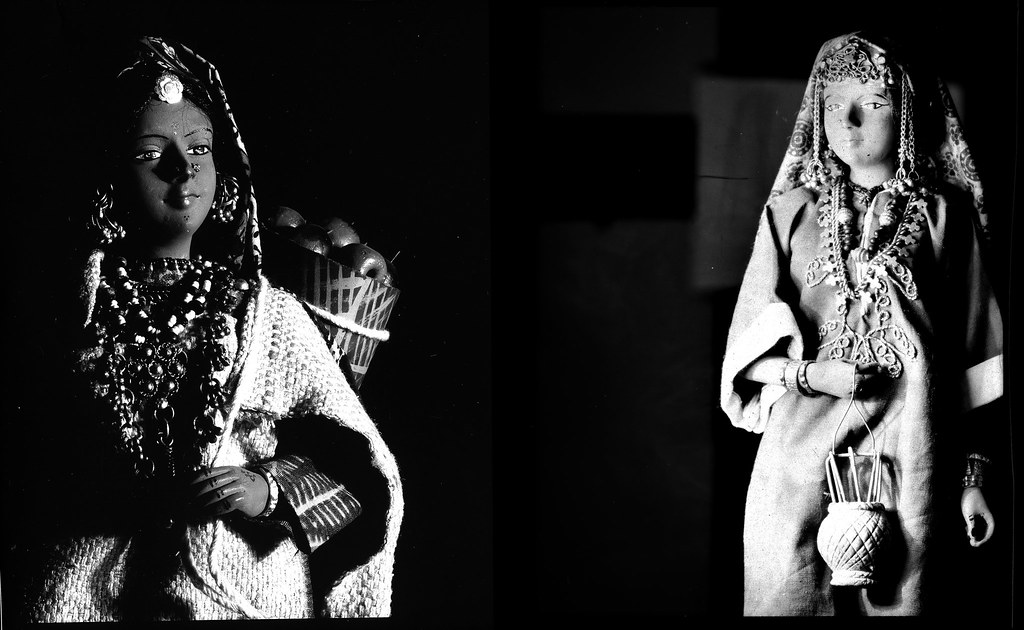 Asal Kashmir (Real Kashmir) 5x8 Paper negative, Scanned and Inverted
​
Last edited: