Landscape images can potentially make an ecological statement and help make you something of an environmental activist whether you intend that or not.
You may be taking photographs of an untouched landscape and the wonder is that such places can still exist in our world. ... Or your images may reveal the changes wrought by Man and pose questions about how this came to be and what it says for the nature of change.
Ansell Adams and the Sierra Club.
Peter Dombrovskis
and
Olegas Truchanas
.
Easter Island is a particularly evocative location in this context. You can have wild and untamed landscapes but for the most part, the evidence of human activity from a bygone age is almost everywhere and asks a multitude of questions with a thunderous silence.
Ahu
wall from seaward side at
Ahu Te Peu
Petroglyphs and the islands of Motu Kau Kau, Motu Iti and Motu Nui (near to far) from Orongo. Tribal candidates climbed down the cliff near here and swam out to the far island for the first egg during the Birdman rituals.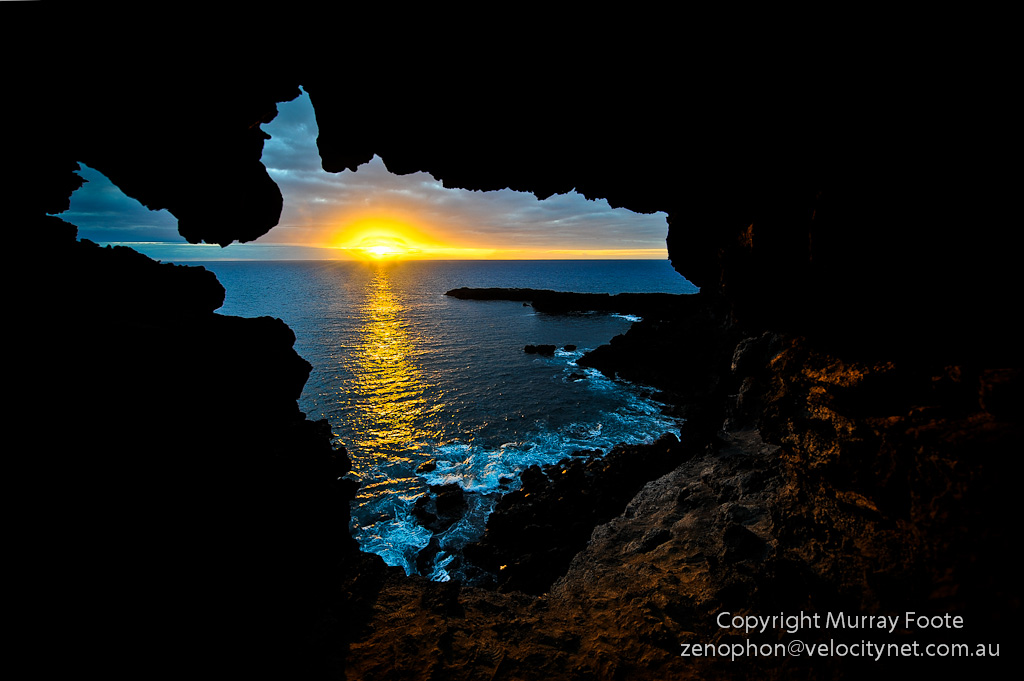 Sunset at Ana Kakenga. This is a cliff-face opening of a lava tube. These were fortified and used as places of refuge in times of conflict.​
I have been posting on Easter Island in my blog for nearly two months now and have just finished with the
final Easter Island post
that includes a list of special topics, a list of posts and a bibliography. There is a selection of six monochrome images in that post, too.
It's hard to imagine posting images from Easter Island without making comments on the historic, archaeological and emotional context. I increasingly included detailed comments with my posts and for Easter Island alone have made 24 posts with 150 images and 23,000 words.
I regard my second last post as particularly significant and this because of the words rather than the images.
Five paragraphs down you will find "Is Easter Island a Parable for the Present?"
. I look at what happened in Easter Island, whether similar things are happening to us, how our situation differs from theirs and prospects for positive action in our time.
I think we all have an obligation to
Life Itself
to understand these issues and to be prepared to stand up for them where appropriate. I hope that people who do not expect to share my outlook will read my "Parable" post as well as those who do. We need a growing consensus to support positive approaches to preserving our environment and thereby to disarm unhelpful vested interests. I am open to all calm and considered viewpoints and welcome comments.
Meditation at Rano Raraku​